When a baby or young child undergoes a bone marrow transplant (BMT) to treat severe combined immunodeficiency (SCID), the treatment may resolve the condition; however, it can also lead to health problems years afterward. In a recent SCID Compass Lunch & Learn, Dr. Ami Shah, clinical professor of pediatrics at Stanford University and pediatric hematologist/oncologist at Lucile Packard Children's Hospital Stanford, outlined the possible long-term health challenges a SCID patient treated with BMT, also known as hematopoietic stem cell transplantation (HSCT), may encounter.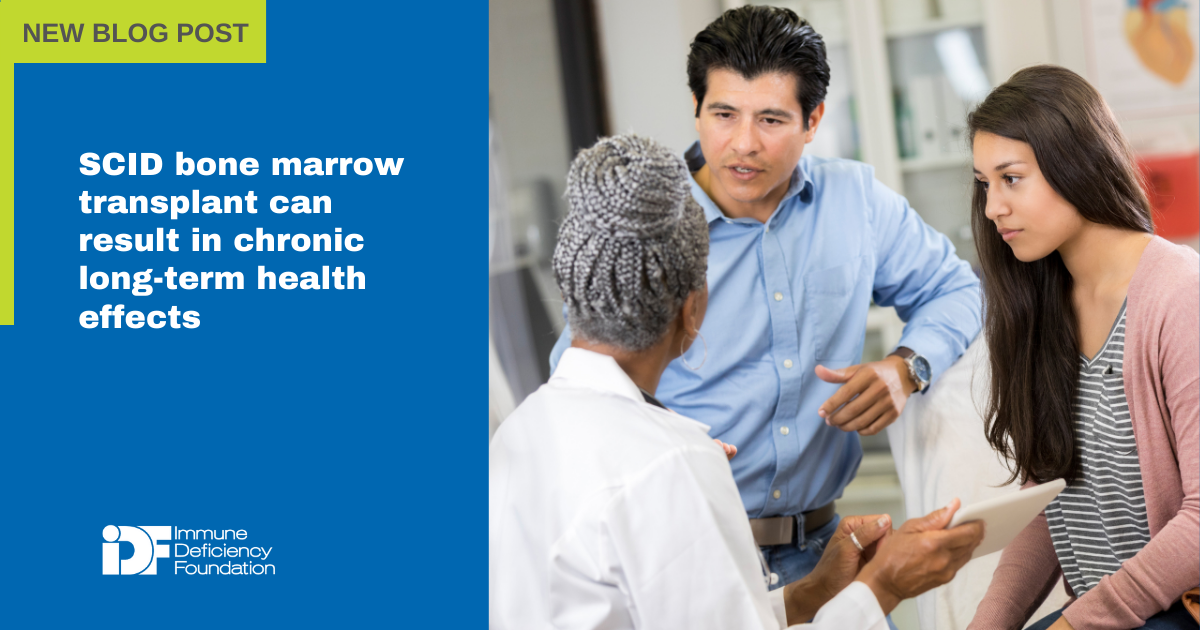 Shah's presentation, "Late Effects and Survivorship Following Pediatric Hematopoietic Stem Cell Transplantation," detailed health issues associated with BMT that can occur a few years to decades after transplant. She also outlined risk factors for long-term health issues, prevention strategies, treatments, and monitoring approaches.
Late effects that a person treated with BMT may experience include:
Immune system issues
Effects on the immune system caused by BMT are chronic graft versus host disease (GVHD), infection, and hormone problems.
GVHD is a condition in which the donor stem cells attack the recipient's body, resulting in skin rashes, gastrointestinal pain and diarrhea, ulcers, infections, weight loss, and lung tissue damage. This condition is typically treated with steroids or other immune-suppressing medications.s.
Some patients without complete immune reconstitution are at risk of bacterial and viral infections. Treatment is antibiotics and antifungals.
Hormone problems
The person's body does not make enough of a particular hormone. Risk factors include previous therapy, conditioning regimen, and prolonged treatment with steroids. Several hormone problems can occur.
Hypothyroidism – Some patients later in life will develop hypothyroidism, a condition in which the thyroid gland doesn't produce enough hormone resulting in fatigue, cold sensitivity, dry skin, weight gain, muscle weakness, pain and cramps, and depression. Treatment is the administration of thyroid hormone.
Adrenal insufficiency – Some will have an adrenal deficiency because they've been on steroids for a prolonged period of time. As prevention, patients should be slowly weaned off steroids.
Growth disturbance – Growth delay may occur, though a child may catch up depending on their age at transplant and how long they received steroids. Monitor height and weight, and if a flattening off occurs, the patient can seek treatment from an endocrinologist.
Gonadal failure – Conditioning with chemotherapy before BMT can affect sex hormones. Females may experience irregular or absent periods and menopausal symptoms. Males may have low testosterone and cannot produce sperm. Both girls and boys should be monitored annually after age 7 and referred to an endocrinologist at puberty for hormone replacement therapy if needed. Before BMT, patients may also opt for sperm banking or egg freezing.
Organ dysfunction
Long-term effects may occur in the lungs, kidneys, or liver.
Patients may have lung disease caused by GVHD, previous infections, or conditioning with chemotherapy. Treatment is immunosuppressive therapy.
Liver dysfunction is primarily caused by medication, feeding through a catheter, and blood transfusions. Late effects include iron overload, fatty liver disease, chronic GVHD, and hepatitis (liver inflammation). Treatment involves getting rid of excess iron either through iron chelation pills or monthly therapeutic phlebotomy (bloodletting).
Irreversible poor kidney function can occur due to acute kidney failure, a history of high blood pressure, GVHD, or kidney-damaging medicine. Doctors look for elevated protein or blood in the urine. Treatment is high blood pressure medicine and, in rare cases, dialysis.
Bone, joint, and dental problems
Other long-term effects of BMT include impacts on the skeleton, joints, and teeth.
Some may develop osteoporosis (characterized by low bone mineral density in combination with fractures) due to steroids and ovarian failure caused by chemotherapy. Treatment is weight-bearing exercises, calcium and vitamin D supplements, and hormone replacement therapy. High doses of steroids may also prevent blood flow to certain big joints, especially the hips, leading to the death of bone tissue, a condition called avascular necrosis. The problem occurs primarily in boys, and the treatment is joint replacement surgery.
Dental problems occur, and some patients transplanted before two years old don't present with dental issues until their adult teeth come in. Risk factors include the child's age at transplant, conditioning regimen, and chronic GVHD. The late effects are poor root development, poor enamel formation, abnormal tooth eruption, and periodontal disease. Patients should visit the dentist every six months for monitoring.
Neurocognitive and psychological issues
Neurocognitive disabilities are significant and common late effects of BMT, including difficulty with:
Reading
Verbal and nonverbal memory
Defects in verbal fluency
Impaired memory
Shortened attention span
Poor school performance
Parents can seek neuropsychological testing for their children, especially before they start school, and work with educators to create an Individualized Education Plan (IEP) or a 504 Plan, both of which provide accommodations for the student in the learning environment.
Patients may experience depression, anxiety, adjustment disorder, and post-traumatic stress disorder.
All persons with SCID treated with BMT should follow up with their doctor for regular check-ups. To learn more, watch the full presentation.
Disease Category:
Severe Combined Immune Deficiency and Combined Immune Deficiency
Patient Lifestage:
Adults
Infants and Children
Teens
Young Adults